We believe that wine should be a reflective magnification of the grape.
We follow traditional winemaking practice, yet recognize that taste in wine changes over time.
We constantly evaluate new methods and ideas, knowing that new generations will find new traditions.
Modern methods of winemaking give us the ability to make cleaner wine with less chemical manipulation, while ancient methods are being revived to produce young, exciting, and sustainable wines, full of wildness and living yeast.
With a world of wine grapes and winemakers to learn from, the search for something new and interesting need never end.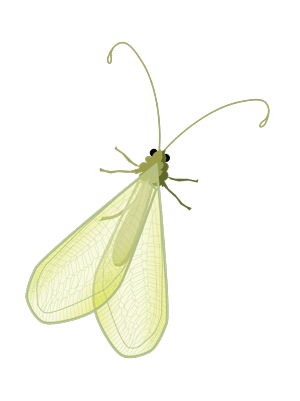 Despite its delicate, fragile beauty, the Green Lacewing is the warrior of the vineyard – a guardian of wine grapes. Though tiny, their larvae feed ferociously on a host of insects harmful to grapes and other plants. The Lacewing allows us to grow grapes with much less intervention.
Leonard and Beth met in 1988 while Leonard was on leave from the Army and married the next year.
Ten years later, on a cross continent trek from Fort Irwin, California to Oromocto, New Brunswick, they dropped into a garagiste winery near Niagara Falls. By now they were no strangers to tasting rooms, but this was their first glimpse behind the scenes of a tiny working winery. Coming out of that tour, a light bulb went on for Leonard and Beth: "We could do this!"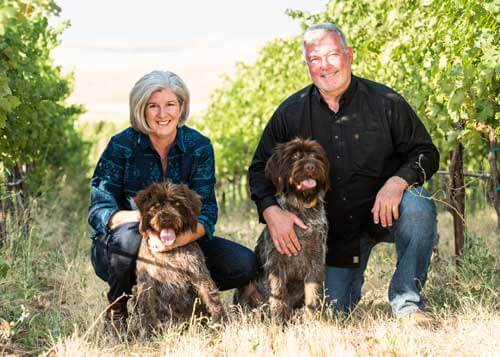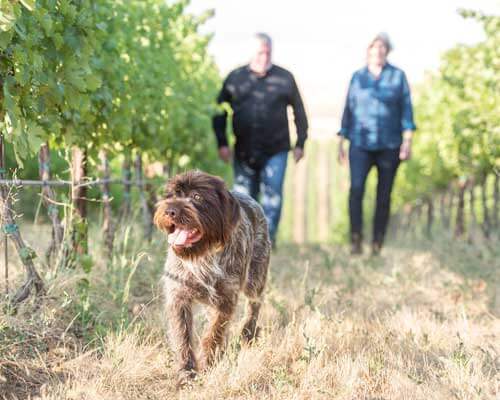 The next military assignment saw Leonard and Beth in Wisconsin, opening a road atlas to the Washington State page and running their fingers on a line between both sets of parents –  one in north-central Washington, the other in north Idaho. In 2003, the Laws purchased 40 acres of land and plans were laid to develop a vineyard on Fool's Prairie – the name given to the valley floor the vineyard overlooks in the Colville River Valley, north of Spokane.
More years, raising kids, wrapping up a military career and suddenly it's 2016! Leonard retired from the Army after one last assignment (in Italy) and came back to Washington to enroll in Walla Walla Community College's prestigious Enology and Viticulture program. Two years later things got busy as Leonard graduated and Fool's Prairie Vineyard was born with the planting of the first two acres of cold-hardy vines typically used for sparkling wines.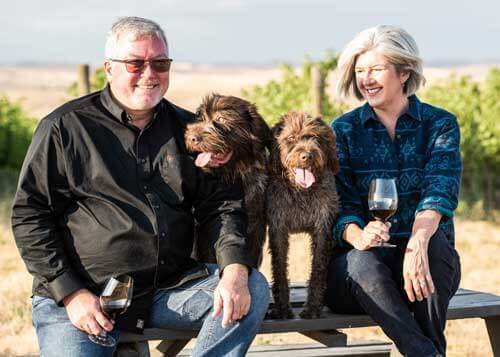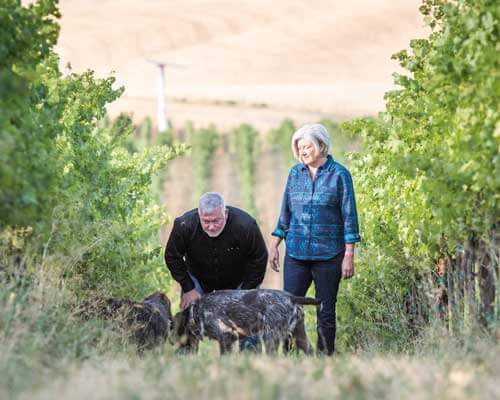 With Beth getting tired of just following Leonard's directions in the vineyard and Leonard's getting tired of Beth constantly asking, "Why are we doing this like this instead of like that?", she enrolled in the same WWCC Enology and Viticulture program in 2019 from which Leonard had graduated.
Intially she focused on vineyard education, but in 2021 graduated with the same degree as Leonard AND one-upped him by also getting her Associate Degree in Accounting and Bookkeeping. 
Developing Fool's Prairie Vineyard is challenging!
Just north of 48 degrees latitude and at an altitude of 2000 feet things can get very cold, very quickly. That, in turn, can damage the vines very quickly. It's not ideal for vineyard owners who live and work four hours away under the best of driving conditions! With these challenges, we are adapting and trying new things.
We expected a small crop in 2021, but the combination of a late freeze followed almost immediately by a heat wave did set us back a bit. As always, next year brings new hope.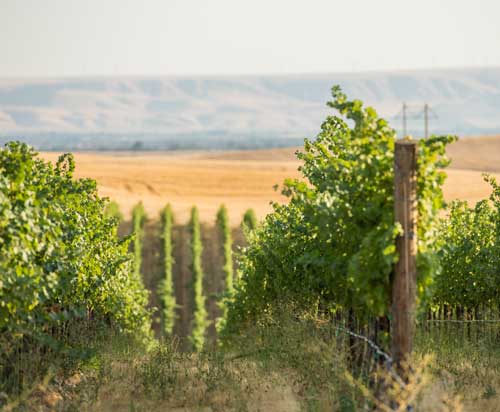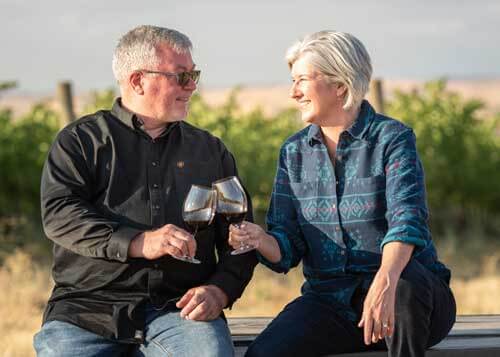 Fool's Prairie was never intended to be our only source of fruit. It has a specific purpose: to supply the grapes needed for a sparkling wine in our future. Currently, we source fruit for Lacewing from several of the outstanding Walla Walla Valley and Columbia Valley vineyards. We have relationships with growers who we value, and they trust us to make wine that will be a credit to their fruit.
What an honor!